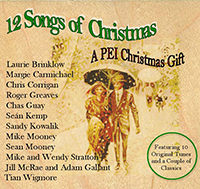 NEW Christmas Songs from PEI
Last winter, just after Christmas, a group of friends started talking about Christmas songs they'd written, or thought they might write, and the next thing they knew: they were making a fundraising CD for PEI's Upper Room Hospitality Ministry and Food Banks.
Featuring ten original Christmas songs, and arrangements of two classics, 12 Songs of Christmas was recorded in Charlottetown at Adam Gallant's Hill Sound Studio Inc. Produced by Chris Corrigan and mastered by James Carrier, the CD also features several Island musicians, including Remi Arsenault, Sean Ferris, Pat Reid, Trevor Grant, Natalie Williams Calhoun, Jonathan Gallant, Keith Stratton, and Colin Campbell.
With Danny Murphy of DP Murphy as sponsor, 100 per cent of the profits will be donated to PEI's food banks.
Roger Greaves: Christmas in Your Eyes
Sean Mooney:(Maybe) Christmas Won't Be Blue
Margie Carmichael: Babies Are Born
Mike and Wendy Stratton: Two Snowflakes
Sandy Kowalik: Merry Xmas Daddi-o
Chris Corrigan: God Rest Ye Merry Gentlemen
Chas Guay: Polly Go Down
Michael Mooney: Home for the Holidays
Jill McRae and Adam Gallant: Calling on Christmas
Sean Kemp: Christmas Mulligan
Tian Wigmore: O,Holy Night
Laurie Brinklow: Christmas is Coming
Check out a sample tune here:

For more information, check out 12songsofchristmas on Facebook.
Price: $15.00  CLICK HERE to purchase