Making a Life in the New World
by Hung-Min Chiang
Non-Fiction, 192 Pages with b/w images, soft cover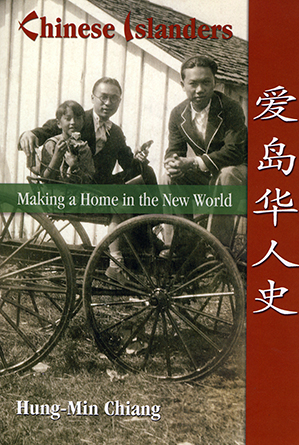 The first Chinese settlers came to Prince Edward Island as early as 1850. Over the years they have suffered racism and poverty, and were subjected to the infamous "head tax," as well as the more severe Chinese Immigration Act (also known as the Chinese Expulsion Act). But through it all, they and their descendants endured, adapted and succeeded in mainstream Island society, and today they are proud to be recognized as true Islanders.
Dr. Hung-Min Chiang has accomplished a series of minor miracles in bringing their stories to life. Using letters, photos and the sites where the early Chinese ran their businesses, he provides a picture of their trials and triumphs on PEI. The book is especially powerful in its description of individual cases: young Chinese men who were lonely and lonesome for "home," strangers in a strange land, isolated, and often racially oppressed.
Chiang does not avoid the realities of the Chinese community; rather, he recounts them with the sublime sadness of the human plight.
No group of Islanders would be harder to document than these few Chinese settlers who, for obvious reasons, preferred to remain anonymous and live below the social horizon, leading "quiet inconspicuous lives." There were few accurate records, no personal biographies, negligible letters, and no survivors from the early days. Added to that was a "discontinuing of generations," a period of decline between the 1940s and 1970s when the community came close to disappearing on PEI.
This will be the definitive history of Chinese Islanders for a long time.
"That the parochialism of earlier times offered a less than welcoming introduction to this Island makes me sad. Our folded arms deprived both sides of cultural enrichment, love, and compassion. At the same time, the success stories and cultural riches brought by so many first-generation Chinese Islanders today leave me encouraged. We have moved comfortably into the 21st century with new citizens dedicated to making the Island a better place to live – weather and all.

"
Catherine G. Hennessey, PEI heritage advisor
ISBN: 0-919013-46-5
Price: $24.95
TO PURCHASE, CONTACT ispstaff@upei.ca or 902-566-0386