The Quaker Settlement on P.E.I.'s North Shore, 1773-1795
by John Cousins. Illustrations by Jeff Alward.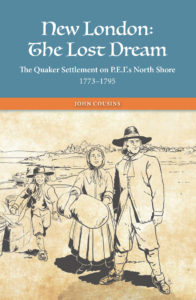 Sometimes, fact is better than fiction.
In 1773, a wealthy Quaker merchant from London, England named Robert Clark launched an ambitious, idealistic settlement at the entrance to New London Bay on Prince Edward Island, at what is today the end of the Cape Road, in French River. He brought skilled tradespeople and their families to the wilderness of PEI in the 1770s, with the dream of building a bustling commercial outpost on the doorstep of the new world.
Clark named this settlement "New" London, after the city he had come from. For almost 20 years New London survived and occasionally thrived, despite the harsh weather and living conditions of PEI's north shore in winter, before colliding headlong with the realities of political and economic life in an infant colony during a time of war.
Drawing upon fresh sources and squeezing insight from existing accounts, author John Cousins delivers this remarkable piece of Island history, virtually unknown until now. He recreates the life – and death – of New London and its Quaker families, complete with heroes and villains, hope and disenchantment, miscalculation and ill fortune, and provides a fascinating portrait of early British settlement on Prince Edward Island.
6 x 9, 250 pages with illustrations, maps, photos
Endnotes, Bibliography
ISBN 978-919013-91-9
CLICK HERE TO PURCHASE