The Founding and Early Years of the Atlantic Veterinary College
by Marian Bruce
Non-Fiction, 216 Pages with b/w photos, Hardcover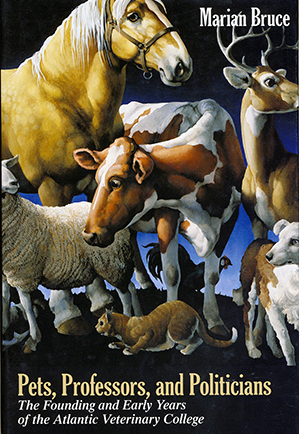 The story of the Atlantic Veterinary College (AVC) in Charlottetown, PEI goes back to the early 1970s, when Canada-wide staffing forecasts called for more veterinarians, and more capacity to train them. But how to address that need — and, more importantly, where — turned into nearly two decades of wrangling, controversy, and negotiations among federal and provincial politicians, government officials, and academics. Finally, on June 3, 1983, the deal to build the AVC at the University of Prince Edward Island was signed.
With a cast of colourful characters featuring the Hon. Eugene Whelan, federal Minister of Agriculture, and several Atlantic premiers including PEI's Alex Campbell and Jim Lee, Nova Scotia's John Buchanan and New Brunswick's Richard Hatfield, Pets, Professors, and Politicians tells the story of the AVC from its earliest beginnings to the present day. Full of stories and photos of people — and, of course, animals — this book is a modern-day David and Goliath story.
"I can't help but give an unequivocal four hooves (paws) up to Pets, Professors, and Politicians."
Dr. Brian Evans, Canada's Chief Veterinary Officer, Canadian Food Inspection Agency

"This entertaining and insightful narrative will appeal to the veterinary community and more generally to people interested in animals, and in both academic and regional politics. It's a good read!"
Dr. Ole Nielsen, former Dean of the Ontario Veterinary College and of the Western College of Veterinary Medicine

"The book brims with interesting people doing interesting things: veterinarians, politicians, administrators, teachers, students, technicians, researchers — even a few animals. The tale of its founding, a saga stretching over 15 years, with more twists and turns than a suspense novel, is a must-read for anyone interested in the politics of higher education in Canada. . . Institutional history is often as instructive as this and occasionally as judicious, but it is seldom so colourful."
Dr. Edward MacDonald, Department of History, UPEI
ISBN: 0-919013-43-0
Price: $29.95  CLICK HERE TO PURCHASE