by JoDee Samuelson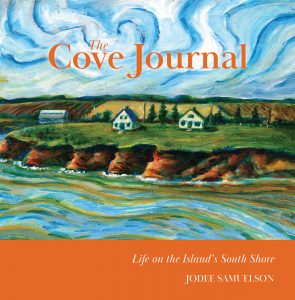 Over the eight years of writing her popular monthly column for PEI's entertainment newspaper, The Buzz, artist JoDee Samuelson captures the soft edges of rural life on the peaceful South Shore of Prince Edward Island.
The passing of the seasons, the rise and fall of gardens, the friendship with neighbours, and simple daily life are all presented against the endearing backdrop of "the Cove." JoDee's expressive illustrations that accompany each chapter add the perfect touch.
Born and raised on the Canadian prairies, filmmaker, and artist JoDee Samuelson has lived on the beautiful South Shore of Prince Edward Island for the past thirty years. Her animated films have been shown at festivals around the world, winning numerous awards for this Island filmmaker. She is a member of the Canoe Cove Women's Institute, a wood carver, painter, gardener, and a baker of delicious bread.
8 x 8, 192 pages, soft cover, perfect bound, $19.95
Includes original illustrations
Island Studies Press at UPEI
ISBN 978-1-988692-20-3
Also available as a PDF
If you have not seen The Cove Journal in The Buzz  before, opening these pages will be like discovering a chest of treasures. Each month is a surprise and a great pleasure. We are delighted that these columns and illustrations have been gathered into a book. If you have been following The Cove Journal over the years, you can enjoy JoDee's insights, imagination, and humour all over again.
– Peter Richards, Managing Editor, The Buzz: PEI's Guide To What's Going On
Angela Walker of CBC's Mainstreet PEI sat down with JoDee to talk about her new book. You can listen to that interview here.
Some photos from the book launch at the Carriage House.