by Sir Andrew Macphail
288 Pages printed b/w, soft cover with dustjacket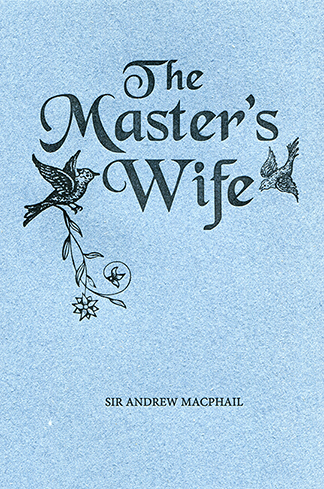 Sir Andrew Macphail (1864–1938) was a native of Orwell, Prince Edward Island. He was professor of the history of medicine at McGill University and a distinguished man-of-letters, who wrote this semi-autobiographical portrait of turn-of-the-century life in the rural community of Orwell, Prince Edward Island.
Originally published in 1939, The Master's Wife is a facsimile of the original 1939 edition, with its handsome type and historic illustrations.
"…this edition is a tribute to a man who, with Lucy Maud Montgomery and Milton Acorn, ranks at the summit among writers rooted in Prince Edward Island…. The text itself is testimony to a full life and evidence that the author never lost sight of who he was, the forces that had shaped him, and where he had come from. The Master's Wife is a tribute to his people and his place in their time."
Dr. Ian Ross Robertson, from the Introduction to The Master's Wife

" A classic of Canadian social history."
 J.M. Bumsted, The Peoples of Canada: A Post-Confederation History

" One of the finest and oddest pieces of prose to be found in Maritime, or Canadian literature as a whole."
Janice Kulyk Keefer, Under Eastern Eyes: A Critical Reading of Maritime Fiction
ISBN: 0-919013-21
Price: $18.95  CLICK HERE TO PURCHASE